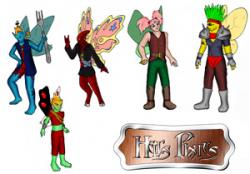 Extract from "Who is Who in The World That Is" by Wizard Ehm-Al.
Much could be said on the subject of the Hell's Pixies, although in truth if one removed all the curses the written material would be considerably shorter.
Note, please, that by curses I mean not merely vulgar language: so many malignant spells have been levelled at this group that should all of them have found their mark, the results would be, shall we say, unpleasant? Of course almost none of these curses worked, or at least worked for very long. The clue is in the name, after all: we are dealing with pixies.